Couscous With Asparagus, Peas & Chicken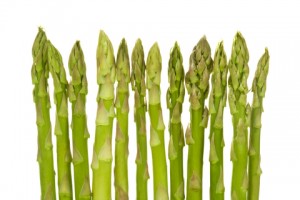 When I received the latest Everyday Food Magazine in the mail just a few days ago, I flipped through it and found this recipe . . . and I knew immediately I had to make it – and tweak it, of course.  This utilizes one of my favorite short-cut ingredients, the rotisserie chicken, and highlights a new veg for us, asparagus.  Yes, that's right – until last spring, D. wouldn't touch the stuff.  But he manned-up and tried it again last year and whaddaya know?  He liked it!  (For the record, I have always loved asparagus – now I am hoping he reverses his salmon, cucumber and zucchini aversions.  Oh, and then there's the tuna, hard-cooked eggs, not-so-crazy-'bout-cabbage issues to sort out . . . .)
But I digress.  This got a "wow!" from D. on Wednesday night - it's that good.  A bit more of a treat than some of my recipes, because it includes butter, but the indulgence is worth it.  This is so fresh-tasting, light and lemony.  It screams "SPRING!"  It's a super-quick (approximately 20 minutes) one-pot weeknight meal that will have your family begging for more!
Couscous With Asparagus, Peas & Chicken (adapted from Martha Stewart's Everyday Food Magazine – recipe is not available on line at this time)
3 T. unsalted butter 4 scallions, white and green parts separated and both sliced thinly Zest and juice of one lemon, separated Kosher salt and freshly ground black pepper 1 lb. asparagus, trimmed and cut into ½-inch pieces ¾ c. frozen peas (no need to thaw) 1 ¼ c. low-sodium chicken broth 1 c. whole wheat couscous White meat from one rotisserie chicken, shredded into bite-sized pieces 4 T. chopped fresh parsley
In a medium saucepan, melt the butter over medium-low heat.  Add the white parts of the scallions and cook, stirring constantly, until softened (approximately 3 minutes).  Add the lemon zest and the broth and season with a little salt and pepper.  Bring to a boil, then add the asparagus and peas.  Return to boiling and stir in the couscous and the chicken. Remove from heat, cover, and let sit for 7 minutes.  Stir in the lemon juice, green parts of the scallions, and the parsley and season with salt and pepper.  Serve!
Serves 4.
© 2010, Sarah. All rights reserved.

Print This!