Cool New Tool on Semi-Sweet: Ziplist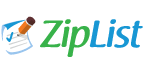 So I'm back to posting some recipes here, thanks to EasyRecipe – and you may have noticed the "Save" button in the upper right-hand corner of each recipe. What's that? That, my friends, is your link to cooking organization and freedom! Click on that button and it'll take you to Ziplist, a free site that'll help you save your favorite recipes from around the web (even from PINTEREST, people!) into your own "recipe box," generate shopping lists based on the recipes you choose to make, and gives you access to money-saving coupons and grocery deals in your area. Wowza. You can even create your grocery list online and then take it with you using their free iPhone & Android mobile apps. And share it, too – so you can send your loved ones to do your grocery-store bidding.
Read all about Ziplist here!
© 2013, Sarah. All rights reserved.

Print This!