Tuesday Tidbit: Try Nuts or Seeds Instead of Croutons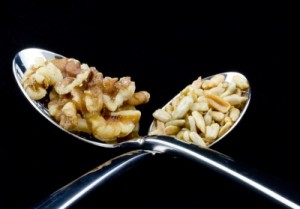 Nuts and seeds have plant protein and polyunsaturated fats, but they're also little calorie bombs, so you have to eat them in moderation. Try what I do – sprinkle a tablespoon on your salad in lieu of croutons. My all-time favorite is a tablespoon of sunflower seeds on my salad. You'll love the crunch, and the bit of fat in nuts and seeds will help your body metabolize all the good-for-you ingredients in your veggies, too! To boost their flavor, toast them in a dry skillet over low heat, stirring constantly, until they're lightly browned.
Image: FreeDigitalPhotos.net
© 2012, Sarah. All rights reserved.

Print This!